Product Summary
The HCPL3700SV is an AC/DC to logic interface optocoupler. The input buffer chip is capable of controlling threshold levels over a wide range of input voltages with a single resistor. The output is TTL and CMOS compatible. Its applications include Low voltage detection, 5 V to 240 V AC/DC voltage sensing, Relay contact monitor, Current sensing, Microprocessor Interface, Industrial controls.
Parametrics
HCPL3700SV absolute maximum ratings: (1)storage temperature: -55 to 125℃; (2)lead solder temperature: 260℃; (3)input current average: 50mA; (4)input voltage: -0.5V; (5)output voltage: -0.5 to 20V.
Features
HCPL3700SV features: (1)AC or DC input; (2)Programmable sense voltage; (3)Logic level compatibility; (4)Threshold guaranteed over temperature (0℃ to 70℃); (5)Optoplanar™ construction for high common mode immunity.
Diagrams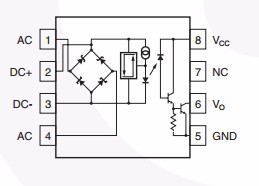 Image
Part No
Mfg
Description
Pricing
(USD)
Quantity

HCPL3700SV

Fairchild Semiconductor

Logic Output Optocouplers Optocoupler aC/DC to Logic

Data Sheet



| | |
| --- | --- |
| 0-610: | $1.19 |
| 610-1000: | $1.01 |
| 1000-2000: | $0.95 |
| 2000-5000: | $0.92 |

Image
Part No
Mfg
Description
Pricing
(USD)
Quantity

HCPL-0201

Avago Technologies

High Speed Optocouplers 5MBd 1Ch 1.6mA

Data Sheet



| | |
| --- | --- |
| 0-1: | $1.95 |
| 1-25: | $1.60 |
| 25-100: | $1.42 |
| 100-250: | $1.27 |


HCPL-0201#060

Avago Technologies

High Speed Optocouplers 5MBd 1Ch 1.6mA

Data Sheet



| | |
| --- | --- |
| 0-280: | $1.30 |
| 280-500: | $1.22 |
| 500-1000: | $1.15 |
| 1000-2000: | $1.08 |


HCPL-0201#500

Avago Technologies

High Speed Optocouplers 5MBd 1Ch 1.6mA

Data Sheet



| | |
| --- | --- |
| 0-885: | $1.22 |
| 885-1500: | $1.15 |
| 1500-3000: | $1.08 |
| 3000-6000: | $1.01 |


HCPL-0201#560

Avago Technologies

High Speed Optocouplers 5MBd 1Ch 1.6mA

Data Sheet



| | |
| --- | --- |
| 0-885: | $1.24 |
| 885-1500: | $1.17 |
| 1500-3000: | $1.10 |
| 3000-6000: | $1.03 |


HCPL-0201-000E

Avago Technologies

High Speed Optocouplers 5MBd 1Ch 1.6mA

Data Sheet



| | |
| --- | --- |
| 0-1: | $1.95 |
| 1-25: | $1.60 |
| 25-100: | $1.42 |
| 100-250: | $1.27 |


HCPL-0201-060E

Avago Technologies

High Speed Optocouplers 5MBd 1Ch 1.6mA

Data Sheet



| | |
| --- | --- |
| 0-280: | $1.30 |
| 280-500: | $1.22 |
| 500-1000: | $1.15 |
| 1000-2000: | $1.08 |