Product Summary
The STM8S103K3T6CTR is a microcontroller. The STM8S103K3T6CTR offers 8 Kbytes Flash program memory, plus integrated true data EEPROM. The STM8S103K3T6CTR refers to devices in this family as low-density. It provides the following benefits: performance, robustness, and reduced system cost. Device performance and robustness are ensured by advanced core and peripherals made in a state-of-the art technology, a 16 MHz clock frequency, robust I/Os, independent watchdogs with separate clock source, and a clock security system.
Parametrics
STM8S103K3T6CTR absolute maximum ratings: (1) Supply voltage: -0.3V to 6.5V; (2) Input voltage on true open drain pins: VSS-0.3V to 6.5V; (3) Input voltage on any other pin: VSS-0.3 to VDD+0.3V; (4) Variations between different power pins: 50mV; (5) Variations between all the different ground pins: 50mV.

Features
STM8S103K3T6CTR features: (1)16 MHz advanced STM8 core with Harvard architecture and 3-stage pipeline; (2)Extended instruction set; (3)Program memory: 8 Kbytes Flash; data retention 20 years at 55℃ after 10 kcycles; (4)Data memory: 640 bytes true data EEPROM endurance 300 kcycles RAM: 1 Kbytes; (5)2.95 to 5.5 V operating voltage; (6)Flexible clock control, 4 master clock sources: Low power crystal resonator oscillator, External clock input, Internal, user-trimmable 16 MHz RC, Internal low power 128 kHz RC; (7)Clock security system with clock monitor; (8)Power management: Low power modes (wait, active-halt, halt), Switch-off peripheral clocks individually; (9)Permanently active, low consumption power-on and power-down reset; (10)Nested interrupt controller with 32 interrupts; (11)Up to 27 external interrupts on 6 vectors; (12)Advanced control timer: 16-bit, 4 CAPCOM channels, 3 complementary outputs, dead-time insertion and flexible synchronization ; (13)16-bit general purpose timer, with 3 CAPCOM channels (IC, OC or PWM); (14)8-bit basic timer with 8-bit prescaler ; (15)Auto wake-up timer ; (16)Window watchdog and independent watchdog timers; (17)UART with clock output for synchronous operation, Smartcard, IrDA, LIN master mode; (18)SPI interface up to 8 Mbit/s; (19)I2C interface up to 400 Kbit/s; (20)Analog to digital converter (ADC): 10-bit, ±1 LSB ADC with up to 5 multiplexed channels, scan mode and analog watchdog; (21)I/Os: Up to 28 I/Os on a 32-pin package including 21 high sink outputs, Highly robust I/O design, immune against current injection; (22)Embedded single wire interface module (SWIM) for fast on-chip programming and non intrusive debugging; (23)Unique ID: 96-bit unique key for each device.

Diagrams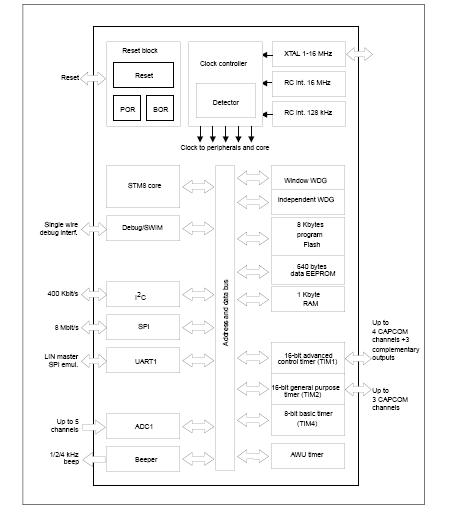 Image
Part No
Mfg
Description
Pricing
(USD)
Quantity

STM8S103K3T6CTR

STMicroelectronics

8-bit Microcontrollers (MCU) Access line MCU 8Kbyt 16 MHz

Data Sheet



| | |
| --- | --- |
| 0-1660: | $0.49 |
| 1660-2000: | $0.45 |
| 2000-2400: | $0.45 |

Image
Part No
Mfg
Description
Pricing
(USD)
Quantity

STM8/128-D/RAIS

STMicroelectronics

Daughter Cards & OEM Boards Starter Kit for STM8 & ST7

Data Sheet



STM8/128-EV/TS

STMicroelectronics

Development Boards & Kits - Other Processors STM8S Eval BRD Touch Sense Solution

Data Sheet



STM8/128-EVAL

STMicroelectronics

Development Boards & Kits - Other Processors STM8S DEMO FIRMWARE EMB FLASH STORED MCU

Data Sheet



STM8/128-MCKIT

STMicroelectronics

Development Boards & Kits - Other Processors STM8S 128KB Motor Control Kit

Data Sheet



STM8/128-SK/RAIS

STMicroelectronics

Development Boards & Kits - Other Processors Starter Kit for STM8 & ST7

Data Sheet



STM802

Other



Data Sheet

Negotiable