Product Summary
The AD606JRZ is a demodulating logarithmic amplifier with limiter output. It provides both logarithmic and limited outputs. The logarithmic output is from a three-pole post-demodulation low-pass filter and provides a loadable output voltage of +0.1 V dc to +4 V dc.
Parametrics
AD606JRZ absolute maximum ratings: (1)supply voltage VPOS: 9V; (2)Internal power dissipation: 600mW; (3)oprating temperature range: 0 to 70℃; (4)storage temperature range: -65 to 150℃; (5)lead temperature range: 300℃.
Features
AD606JRZ features: (1)logarithmic amplifier performance; (2)limiter performance; (3)low power.
Diagrams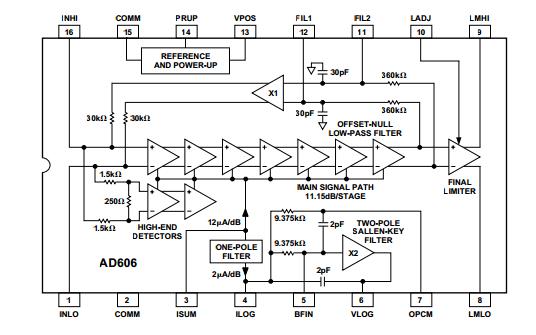 Image
Part No
Mfg
Description
Pricing
(USD)
Quantity

AD606JRZ



IC AMP LOG LP 1.2MA 16SOIC

Data Sheet



| | |
| --- | --- |
| 0-1: | $29.22 |
| 1-10: | $27.33 |
| 10-100: | $23.69 |
| 100-250: | $22.11 |
| 250-500: | $21.06 |


AD606JRZ-REEL7



IC AMP LOG LP 1.2MA 16SOIC

Data Sheet